The History of Liposuction
Liposuction is one of the most popular cosmetic surgical procedures in the United States, but it is still a relatively new procedure. Although surgeons had attempted to remove fat using scalpels to manually take out the fat for a long time before suction-assisted procedures came along, that kind of surgery didn't work well.
The history of liposuction is a bit vague, since several people claim to have invented it or been the first to do certain types. The first use of suction to help remove the fat is attributed to a French surgeon named Charles Dujarier in the 1920s. Unfortunately, he treated a famous Parisian model and gangrene set in, leading to her death. That put a stop to suction-assisted fat removal for several decades.
Liposuction was again invented in 1974 by two Italian gynecologists, Dr. Giorgio Fischer, and his son Dr. Giorgio Fischer, Jr. They discovered a way to internally cut away at fat tissue within the body using an electric-powered rotating scalpel inserted through small incisions. This rotating scalpel was similar to a gynecological instrument used for dilation and curettage procedures. This tool is essentially an oscillating blade contained within a thin metal tube called a cannula. The destroyed fat cells (along with other tissue, fluid, and blood, no doubt) were suctioned out through rubber tubing by a vacuum machine. The Fishers' technology was not as fine-tuned as that used today and is really just barely comparable, but they gave birth to modern liposuction.
But early attempts at vacuum-assisted lipoplasty (or suction-assisted lipectomy, suction lipectomy) resulted in a great deal of blood loss, permanent numbness in the treated areas, asymmetry, and very unpredictable results. Surgeons began to change the procedure and create their own techniques. Liposuction was being fine tuned through the 1970s and 1980s. Unfortunately, when a new procedure is introduced the patient becomes the guinea pig. During this time, surgeons tried various kinds of oscillating blades that were encased in metal cannulas and sharp bladeless cannulas were also tried. If there was a new theory on what would work better, there was a patient on the receiving end of the newer technique.
Next Step in Liposuction: The Invention of the Tunneling Technique and Use of Blunt Cannulae
In 1977, a French plastic surgeon named Dr. Yves-Gerard Illouz greatly improved suction-assisted lipoplasty through the use of a blunt-tipped cannula. The use of a blunt cannula produces less bleeding, less nerve and blood vessel damage, and was easier for the surgeon to manipulate through fatty tissue.
Dr. Illouz also saw shorter recovery times and less postoperative discomfort when a blunt-tipped cannula was used. Less blood loss meant fewer complications, such as shock, the need for blood transfusions, or the occasional death from blood and fluid loss.
Cosmetic surgeons started using a tunneling technique with the cannula around this time. This began the journey towards liposuction as we know it.
Dr. Pierre-Francois Fournier further improved liposuction techniques in collaboration with Dr. Illouez. They became known as the pioneers of liposuction as we know it.
Plastic surgeons, dermatologists, and plastic surgery societies outside of France caught wind of this new and exciting procedure in the early 1980s. Many traveled to observe liposuction procedures performed by Drs. Illouz and Fournier. Soon surgeons brought liposuction to the United States and began practicing this procedure on their own. American surgeons found that liposuction was truly beneficial when performed by a surgeon who was skilled, responsible, and had a good aesthetic eye.
But with new procedures comes new concerns. Not everyone was convinced of the safety and efficacy of the liposuction procedure, especially in the wrong hands. There were questions regarding proper technique, the effects of skin elasticity, asymmetry, pain management, and of course, which areas of the body could be safely treated. In spite of that plastic surgery is a very safe, there were also some well-publicized deaths.
And just who was going to be allowed to perform liposuction: Plastic surgeons, general surgeons, dermatologists, primary care physicians, gynecologists? Cosmetic surgery (procedures done only for aesthetic reasons) was establishing itself as a distinct specialty from plastic surgery (both reconstructive and aesthetic procedures). Dermatologists were one of the first specialties to help perfect liposuction and there was a bit of a turf war between them and the plastic surgeons. Everyone had a different opinion about which medical specialty should perform liposuction, and absolutely everyone wanted the money it would bring in. Things haven't changed too much on this front.
However, liposuction still wasn't safe enough at that time to be widely performed. The results were not always good and the risks were higher then they are now.
Different Liposuction Techniques: Super-Wet and Tumescent Liposuction
Early liposuction procedures were considered dry techniques, although Dr. Illouz originally used an infusion of the treatment area with saline. Surgeons started infusing more saline fluid and mixing the fluid with epinephrine, a drug that constricts blood vessels, and lidocaine, a local anesthetic, in what became called wet techniques.
Unfortunately, the amount of lidocaine solution used by some surgeons caused their patients to overdose, with some fatalities. These days, less lidocaine is used and patients are monitored more closely.
Then came the super-wet technique. In this technique, the surgeon injects larger amounts of saline, epinephrine, and lidocaine into the areas to be treated. The idea was to prevent major blood loss and reduce bruising and pain. The fluid would swell and engorge the fatty area and surrounding tissue. Another word for swelling is tumescence and this word started to be used. This way the fatty areas can be removed with out major detrimental tissue damage, significant blood loss and aid in ease of fat removal.
In a super-wet procedure, the amount of fat and tissue sucked out is the same as the amount of fluid is infused. Originally, lidocaine was not included in this infusion, but later was added.
In 1985, a California dermatologist named Dr. Jeffrey Klein further improved liposuction by introducing the tumescent technique. With the tumescent technique, twice as much, and even three time, as much of the solution is infused in comparison of the amount of fat targeted to be removed.
Tumescent liposuction is the most common type of liposuction done in the United States today, with many thousand procedures done. It is considered by many to be safer than earlier techniques.
The rule of thumb for distinguishing the different techniques is this:
If your surgeon injects less tumescent solution than the amount of fat removed, it is a wet technique.

If your surgeon injects about the same amount of tumescent solution as the amount of fat removed, it is a super-wet technique.

If your surgeon injects the fat and tissues with 2 to 3 times the amount of solution as the amount of fat removed, it is a tumescent technique.
Ultrasonic-Assisted Liposuction
In 1987, Italian surgeon Dr. Michele Zocchi pioneered the use of ultrasonic high frequency sound waves in liposuction. High-frequency ultrasound waves are emitted from a paddle or pads that are held near the skin. These waves penetrate the skin and heat up and destroy the membrane of a fat cell and literally liquefy the fat. This makes it easier for surgeons to aspirate the emulsified fat without much effort with the cannula. This procedure is called external ultrasonic liposuction (E-UAL). However, there is the risk of burns to the skin and contour irregularities.
Today ultrasonic liposuction is usually carried out using a cannula that emits ultrasonic waves. This is called internal ultrasonic liposuction (I-UAL). There are risks with this, too, such as burns, punctures and excessive undermining of tissue due to thermal wounds. Also, the incisions used for internal UAL must be larger to accommodate the cannula.
Many liposuction surgeons do not like UAL and feel that tumescent liposuction is superior.
Power-Assisted Liposuction
Power-assisted liposuction (PAL) is a newer technique that uses a high-speed linear reciprocating suction cannula. This cannula eases through the fatty tissue including very dense, fibrous tissue with less trauma than traditional techniques and with no burn risks as with the UAL techniques. Surgeons are able to perform more effective high-volume liposuction in a shorter time, without as much trauma, especially in more fibrous areas. Fibrous fat tissue has always been a problem in the buttocks, saddlebags, back, and the male breast. The PAL cannula moves through these areas faster, with less work and strain for the surgeon and less pain and a faster recovery for patients. Aesthetic results are comparable to other standard liposuction techniques.
Laser-Assisted Liposuction
Laser-assisted liposuction, also called laser liposuction or laser liposculpture, was pioneered by a Columbian surgeon, Dr. Rodrigo Neira. Dr. Neira reportedly had first attempted to relieve pain and lessen the recovery time with this device, which had been created for pain management. He noticed that fat was emulsified and released from fat cells, but that the fat cell membranes were unharmed.
Laser-assisted liposuction is most commonly used in conjunction with tumescent liposuction, but has been used on smaller areas of fat without suction removal. The emulsified fat is left in place because the body can remove a small amount of fat on its own. This device does not create heat (it is considered a cool or cold laser) and therefore causes no thermal wound. The device is held over the treatment area for 12 minutes and then small incisions are used to drain the fluid and fat cells.
Laser Lipolisis
Laser lipolisis (sometimes written as laserlipolisis) is a newer procedure that was invented in Italy. This procedure is not found in the United States as of yet, but is routinely performed in Italy, South America, and in other parts of Europe. The procedure is performed with injections similar to the tumescent liposuction technique and involves the insertion of a fiber optic device through very small incisions. The laser light that is beamed down the fiber optic apparently affects only the yellow material in the body, the fat, which it emulsifies. Up to 500 ml (a little over a pint) of fat can usually be absorbed by the body. Although laser lipolisis was not initially designed for high volume applications, larger volumes of fat can be liquefied and suction aspirated.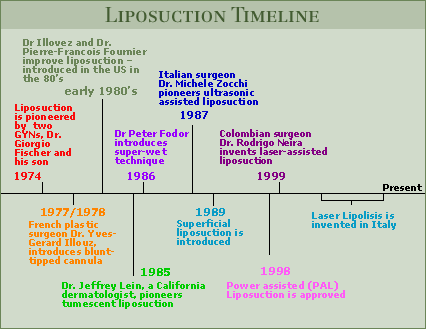 Evolution of Incisions
Incisions used in liposuction were once over an inch long! Now they are often barely an eighth of an inch long with the tumescent technique. Some procedures, such as laser-assisted liposuction, do not require aspiration and have no incisions.
Along with the length of the incisions, the placement of them has also evolved. Surgeons have learned where the incisions can be placed so that they are as inconspicuous as possible after they heal. However, not all surgeons place incisions inconspicuously, so be sure to go over this with your surgeon at your consultation. Some surgeons are able to get to numerous areas using just a few planned-out incisions and some seem to require more incisions to get good results. Skill is a major issue in any cosmetic procedure, and this is especially true with liposuction.
Area is Locked